Dentures
As part of our complete examination process, we will evaluate any missing teeth and offer our recommendations for the use of partial or complete dentures as a replacement.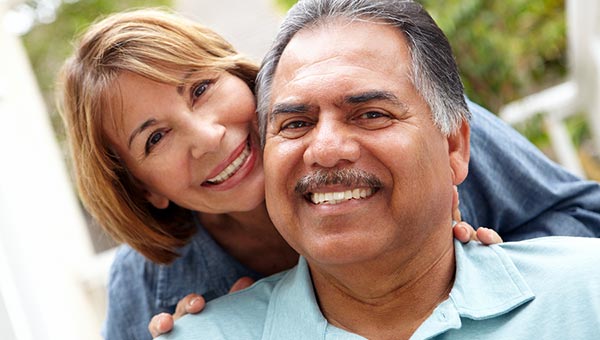 Partial dentures are removable appliances that provide tooth replacement when multiple teeth have been lost due to disease or trauma. A removable partial typically has clasps that rest on natural teeth to secure a metal or acrylic base structure mounted with "false" teeth to fill spaces left by missing teeth.
Complete Dentures are removable appliances that replace all of the teeth in an arch. In most cases, complete dentures are the last option considered.
With no teeth or opposing forces in the mouth, jaw bone levels can deteriorate over time. If all of a patient's teeth are lost at an early age, this can result in serious and costly oral health problems in later years.
Implant Supported Dentures
In cases of multiple tooth loss, dentures are often combined with dental implants to further improve biting and chewing capabilities. Read more about Dental Implants.
How Implant Supported Dentures work:
An implant supported denture is removable for cleaning, similar to traditional dentures. The difference, however, is that the implant denture is fitted with special fittings that "snap" onto dental implants that have been strategically placed by a dental specialist for support. The dental implants hold the denture firmly in place, thus eliminating the need for denture adhesives.
Your implant supported denture will be designed to be natural-looking and to restore your biting and chewing abilities to normal function. A snug fit also helps prevent sore gums that typically occur with rubbing dentures in need of adjustment.
Smile... Laugh... Enjoy!
Patients that have had their dentures secured with dental implants often comment that they can enjoy foods such as soft breads, steak and crunchy vegetables again without the fear or embarrassment of loose dentures that slip and fall.
Protect Your Oral Health
If you are in need of assistance with broken or missing teeth, Contact Us to arrange for a personal consultation with one of our doctors and explore options to rebuild your smile.
---