New Patient Forms
Patient Education
Payments


Secure online payments.
3D Dentistry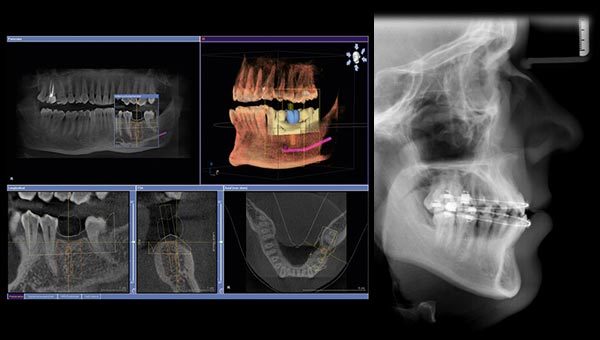 Our practice utilizes Sirona Orthophos XG3D Cone Beam Imaging Technology
In dentistry, as in other health care fields, the ability to "see" skeletal structures, nerves and muscles is a major part of the diagnostic process. Our practice has integrated 3D radiographic imaging technology to assist our dentists in visualizing teeth, jaw bone and other anatomical landmarks of the head and neck.
3D Cone Beam Imaging is an exciting technology – in one visit, we are able to acquire comprehensive diagnostic images and discuss treatment options with you, all in the comfort of our own facility.
This type of imaging supports dentistry in a number of ways:
Dental Implant Restoration Planning – with 3D imaging tools, our dentists can determine which areas of the jaw bone are suitable for implants. The planning software also gives our dental specialists the ability to create surgical guides for precise placement of the dental implant.
Root Canals & Wisdom Teeth Extraction – the ability to "rotate" a tooth in 3D provides our doctors with additional measurement information as well as details about the shapes of tooth roots. Having this information in advance of treatment helps your dentist plan for the procedure.
Alternative to Intraoral Xrays - for patients that are unable to tolerate xrays taken inside the mouth, cone beam imaging affords us the opportunity to take a comfortable image in just seconds and complete your dental examination.
Orthodontic Treatment – multiple views, along with standard views of teeth and facial structures provide our orthodontist with diagnostic information to help anticipate tooth movement and eruption in managing orthodontic treatment.
3D Cone Beam Imaging also integrates directly with CEREC® restorative technology.
CEREC® CAD-CAM software works with a rendered 3D image of the dental implant to assist the dentist in designing a custom restoration to fit the implant and restore healthy function to the bite.
Dental technology makes it possible to keep your smile looking and feeling great for a lifetime. Contact Us to learn more about solutions for your dental challenges.
---